Gujarati Grammar Online Test : 
Shikshanjagat
is providing a huge collection of study material for all kind of competitive exams in Gujarat region. Aspirants are advised to visit our website for new job search, Study material PDF, Online test and daily current affairs. Shikshanjagat is the most searched site for latest posts regarding daily updates.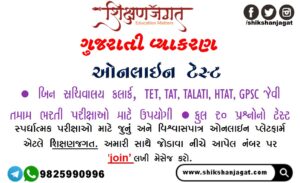 Gk Online Test :
Gujarati Grammar is the most valuable topic in any competitive exams like GPSC, GSSSB Bin Sachivalay Clerk, Talati, Gram Sevak, TET-1, TET-2, TAT, HTAT, HMAT and any Gujarat Board related. Here we have attached some interesting questions regarding Gujarati Grammar.
Gujarati Grammar GK test :