We know that many schemes are released by the government for women empowerment. The importance of women is very important in our country. Women are considered to be the form of God. The government also gives priority to women in jobs and in other ways. While the government has brought several schemes for the welfare of women, once again it has brought a new scheme for women and daughters which is the name of the scheme Vhali Dikari Yojana.
If a daughter is born in our house, we say that Lakshmi was born. When there is a new enthusiasm in our home, the government has introduced a new scheme for the promotion of girls which is a plan Vhali Dikari Yojana.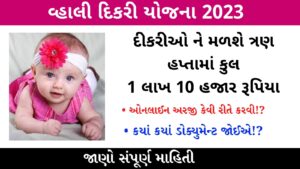 The Government of Gujarat has made new provisions about this scheme. The process of affidavit in the state of Gujarat has been canceled. Accordingly, a new change has been made in the provision of affidavit in Vahali Dikari Yojana.