GPSC GES Class-2 Exam 2021 Call Letter : नमस्कार दोस्तों ! आप सबका फिर से हमारी वेबसाईट shikshanjagat पर हार्दिक स्वागत है | आप सबको यह बताते हुए आनंद हो रहा है की Gujarat Public Service Commission Gujarat द्वारा पिछले साल कई साडी परीक्षाओ के लिए आवेदनपत्र मंगवाए गए थे | जिसमे शिक्षा विभागकी एक जाहेरात बहुत महत्वपूर्ण थी GES Class-2(Gujarat Educational Srervices) |
GPSC GES Class-2 Exam 2021 Call Letter
GPSC GES Class-2 Exam 2021 की प्रिलिमिनरी परीक्षा का इन्तेजार उम्मीदवार कई दिनों से कर रहे थे | पिछले हप्ते ही GPSC ने अपने  एक नोटिफिकेशन में जरी किया था की यह परीक्षा इस जनवरी 2021 में आयोजित की जाएगी | आज GPSC की ऑफिशियल वेबसाईट पर इस परीक्षा के होल टिकट र्रख दि गए है | उमीदवार वहा से अपने कोल लेटर डाऊनलोड कर सकते है |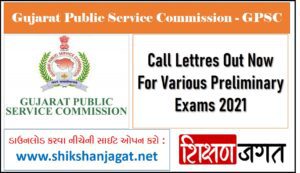 GPSC GES Class-2 Exam 2021
Exam Name  : GPSC Gujarat Educational Services
Organization : Gujarat Public Service Commission Gujarat
Exam Date : 24-01-2021
Exam Syllabus : GES Exam Syllabus
होल टिकट कैसे डाऊनलोड करे ??
सबसे पहले आप GPSC की ऑफिशियल वेबसाईट पर जाए |
वहा "Call Letter" ऑप्शन पसंद करे |
उसके बाद आपने जिस परीक्षा के आवेदन किया था वह सिलेक्ट करे |
फिर अपना Confirmation Number डाले |
उसके बाद अपनी बर्थ लिख लीजिए |
अंत में "Print Call Letter " पर क्लिक करे |
To Download Call Letter Click Here
Visit Official Website Of GPSC
About GPSC
GPSC exams are conducted by the Gujarat Public Service Commission. GPSC conducts various recruitment examinations for Class I, II and III vacancies in the Gujarat State Administration.
Latest Updates about GPSC Exam